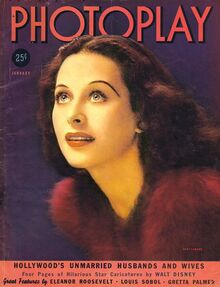 Photoplay, was one of the first American film fan magazines. It was founded in 1911 in Chicago, the same year that J. Stuart Blackton founded Motion Picture Story, a magazine also directed at fans. For most of its run, Photoplay was published by Macfadden Publications.
The January 1939 edition of photoplay is featured in the lobby of The Hollywood Tower Hotel sitting on the concierge desk, positioned under a hat.
The magazine features artwork from Walt Disney.

Ad blocker interference detected!
Wikia is a free-to-use site that makes money from advertising. We have a modified experience for viewers using ad blockers

Wikia is not accessible if you've made further modifications. Remove the custom ad blocker rule(s) and the page will load as expected.