Harrison Hightower Disappears at Tower of Terror, was an article published in The New York Globe Telegraph, on Monday, January 1, 1900. It reported the explosion at the Hotel Hightower.
Transcript
Edit
HARRISON HIGHTOWER DISAPPEARS AT TOWER OF TERROR
HOTEL HIGHTOWER CLOSED TO PUBLIC
NEW YORKERS ARE STILL REELING AFTER THE SHOCKING EVENTS at HOTEL HIGHTOWER last night.What began as a joyous celebration ended in SADNESS for many Manhattanites.
11:59 p.m. - All day long people had streamed into the city on elevated trains and streetcars, to join the general throng in the streets as the celebrated the impending turn of the century.
They were standing on roof tops, dancing in the parks, crowding onto balconies and stopping traffic as they began the exuberant count-down of the last few seconds of the nineteenth century, eager to welcome in the twentieth century with cheers, toasts and choruses of "Auld Lang Sine".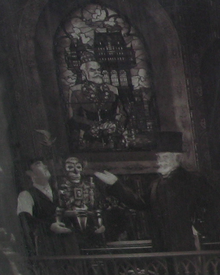 Appearances
Edit
Ad blocker interference detected!
Wikia is a free-to-use site that makes money from advertising. We have a modified experience for viewers using ad blockers

Wikia is not accessible if you've made further modifications. Remove the custom ad blocker rule(s) and the page will load as expected.